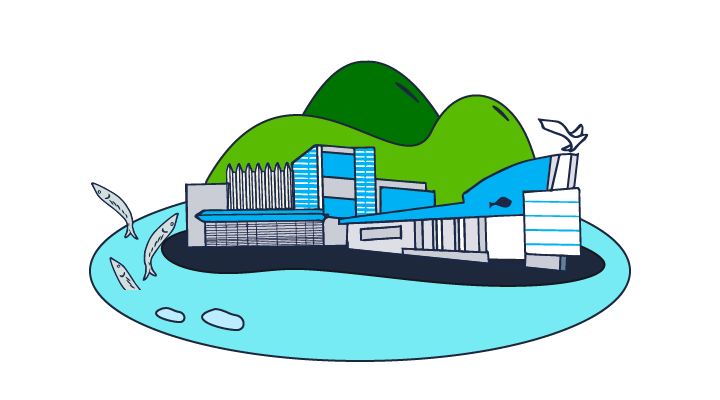 Sustainable Chrysanthemum Island
A variety of attractions have been developed from the fishing and maritime industries that Penghu relies on. Guests can experience results of the efforts devoted by local residents to marine sustainability and sustainable tourism.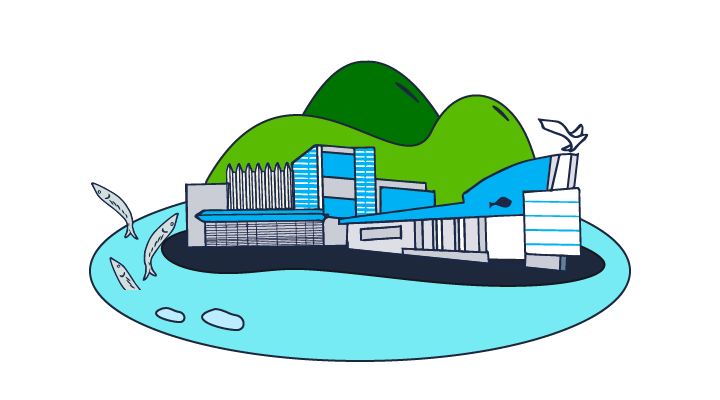 Auditorium Penghu County is home to performance halls, meeting rooms and seminar rooms with capacities of 50 to 900 people. It is the only large-scale performance venue in Penghu County and is located in front of the atrium square of Penghu Bureau of Culture, next to Penghu County Library, Penghu Bureau of Culture and Penghu Gymnasium. It is the heart of local arts and cultural activities.
Address: No. 230, Zhonghua Road, Magong City, Penghu County
Website:
https://hall.phhcc.gov.tw
Daobien: Handmade Straw Sandal Experience

Jhongshe Historical House is located in the center of Wang'an Island in Penghu County. It has been included in the list of 100 endangered cultural sites identified by the World Monuments Fund, and is also on the list of its protection plan that strives to protect and defend world cultural and natural heritage.. (English language tours need to be reserved in advance.)
A 10-minute guided tour of local settlements introduces local history and heritage sites, plus highlights the local residents' spirit of "obtaining from nature, applying in life and returning to nature" in daily life due to lack of resources in the early days. Next is a 1.5 hour weaving lesson to create straw sandals. Afterwards, guests will put on straw sandals woven by craftsmen and proceed to the intertidal zone, where they will have a 20-minute sustainable marine resource guided tour. The whole trip will have substantial benefits in promoting sustainable management and protecting marine and coastal ecosystems.
Outlying Island Tour: Shihu (fishing trap) Building Experience

The coastline of Penghu is 320 kilometers long and there are close to 600 shihu (stone fishing traps) distributed along the coastline, accounting for 90% of such traps in the world. The density and number of shihu are ranked first in the world, with the potential to become a part of protected world cultural heritage. The outlying island tour enthusiastically promotes shihu building and educational activities, and through concrete action and concerted efforts, it has successfully ensured that people acquire information and consciousness for sustainable development and develop lifestyles that can co-exist with nature in harmony. (English language tours need to be reserved in advance.)
A 2-hour shihu building experience will start by learning stories of Penghu people, the principles of hunting, the balance between tidal seasons, and fishermen's shareholding methods in sharing their catch and the construction methods and materials used. Guests will then get to roll up their sleeves and put the principles and techniques of building shihu into practice, following the ways of craftsmen in using ordinary rocks to form a world heritage artifact that might last into the next century, contributing to sustainable management and marine and coastal ecosystem protection.
Brother Fisherman: Handmade Wheat Vermicelli Experience

In the early years, wheat vermicelli was a folk delicacy enjoyed by fishermen when they headed out to sea and during the festive New Year season. Weathered by northeast monsoons over the course of six months, wheat vermicelli has a unique taste of sea salt, and an elasticity and texture that machine-made vermicelli cannot replicate. With the advent of the industrial age, skills for making traditional wheat vermicelli gradually disappeared. Therefore, the founder of Brother Fisherman returned to his hometown to create a brand that reproduced the delicious taste and handcraft of his childhood. (English language tours need to be reserved in advance.)
A 30-minute guided tour and explanation of the process of making wheat vermicelli will be followed by a 1.5-hour wheat vermicelli hand making experience to learn the techniques and the difference between handmade and machine-made wheat vermicelli. A teambuilding activity is designed where guests will split into teams and compete against one another in a fun contest with the goal of stretching out the longest piece of wheat vermicelli. The winning team will receive a creative gift set from Brother Fisherman. The proceeds from tourism consumption can help promote the sustainable tourism industry, create employment opportunities, and promote local culture and products.
O2 Lab: Marine Debris Fish Souvenir Experience

Surrounded by sea, marine debris from surrounding countries has a persistent impact on Penghu, especially along ocean currents and during monsoon seasons. O2 Lab began marine debris recycling in the local area to raise awareness of marine issues among the public, enabling them to learn about the impact of marine debris on the ocean through guided tours and marine debris recycling experiences. (English language tours need to be reserved in advance.)
A 30-minute guided tour of O2 Lab will show works of art and installations that were produced from marine debris recycling. Next there is a 1-hour handicraft activity, where guests will combine rope from fishing nets salvaged from beach cleaning activities with driftwood, sea glass and plastic fragments to create fish silhouettes. The resulting pieces can be used as hanging ornaments, hooks, or decorative objects at home, reminding guests at all times the importance of environmental sustainability and be a part of protecting the ocean through the process of creation.